Roadburn 2016, Saturday 16 April 16th & Sunday 17 April, 013 Main Stage
The evolution of Roadburn has been quite a gradual thing. From the early days of paying tribute to the forefathers of the stoner, psych and doom scenes (Blue Cheer and Sabbath will always be in Walter's heart!), through to the expansive, forward thinking, genre-defying festival we have before us today – it's been a wild ride. Somewhere in there, around the mid '00s – which is coincidentally when Neurosis made their Roadburn debut – Roadburn started to explore the outer reaches of heavy music, relishing uncovering whatever the underground had to offer.
Neurosis and their 2007 headlining show proved to be pivotal in the way heavy music was presented at Roadburn. And as the festival evolved over the following years, so too did the band, culminating in two special 30th anniversary shows in 2016. These shows highlighted a decade of synergy and growth for both parties. They served as a second marker in the gradual transformation of the festival, and a significant impetus as it sought to further redefine heaviness.
In this series of Roadburn Deep Dives, we naturally picked – a complete no-brainer if there ever was one – the Neurosis 30th Anniversary shows at Roadburn 2016 as one of the most momentous and memorable occasions we have ever witnessed at the festival. But it's impossible to look at that admittedly crucial moment without realising how much of it was simply the logical outcome of that profound relationship established a decade earlier.
— José Carlos Santos
— Paul Verhagen (pics)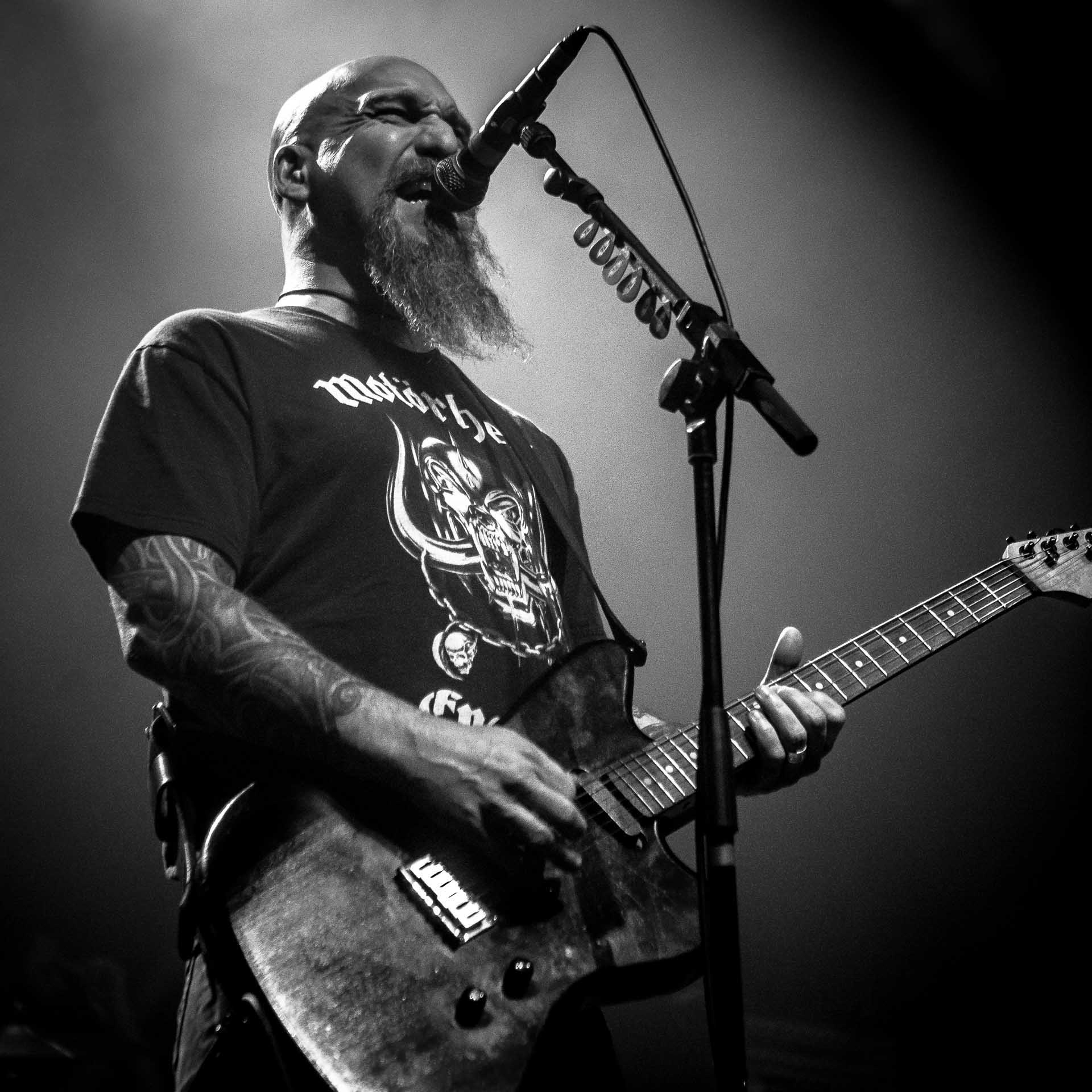 "Everything dates back to the 2007 edition," says Roadburn's artistic director Walter / Roadburn, the heart and soul of the festival, already with a hint of emotion in his voice. "Neurosis hadn't been in Europe for a while, and they were quite hard to book. Yvonne Mclean, who worked for Roadburn at the time, was friends with Steve Von Till's then-wife, with whom she talked to try to reach the band about the possibility of playing the festival. I had met Andreas Kohl from Exile On Mainstream a couple of years before, and he had worked with Neurot Recordings – he also vouched for Roadburn. Those connections were a big help in trying to pass the message of what the festival and the venue were like, and why we wanted them as headliners back in 2007. They eventually agreed, and we were able to announce them: that was an incredibly important moment."
As if to metaphorically pinch themselves, and make sure that Neurosis really existed and would bring their unique brand of heaviness to Roadburn, Walter recalls that he and his close collaborator at the time, Jurgen van der Brand, went to London to watch them play at The Forum, a few months before Roadburn. "The festival was already sold out by then," Walter remembers. "Andreas was at the show too, so we went there, we saw the whole show and we were absolutely in awe. There was such a buzz around the band, and there were a lot of people from abroad there – we even bumped into our friend Michiel Eiknaar, who sadly passed away in 2019, and a couple of other people from Tilburg."
After several years where Neurosis rarely played live, this buzz was more than justified. Their shows were the stuff of legend, and Neurosis were just about the hottest band in the underground at this time. It was an enormous coup by Roadburn to secure them for the 2007 edition. But it wasn't easy.
"I remember they had very peculiar backline and tech specs, and everybody told us they were a somewhat difficult band in that aspect," Walter recalls. "But the 013 knew it was very special to have them over, so they did their very best to fulfil their technical rider. We really wanted to make sure that everything was done perfectly for them. That happened, and I think they were very pleased with how the Roadburn and 013 staff treated them. I think they realised that we took them very seriously as a band, and that we had done everything to accommodate them and to make sure they could play their very best show."
When asked about those first contacts with the festival, guitarist/vocalist Steve Von Till laughs and says, "My memories of Roadburn all blend together!" Nevertheless, the important things did stick. And Walter is right – they were impressed.
"What I remember about 2007, although some of the details are hazy, is that Roadburn immediately felt different from any other festival we had been invited to," Steve says. "It felt just like where we were coming from: more DIY, more underground appreciation… Not only that, but more intimate too. It wasn't trying to be some giant thing in a grassy field. It was in a proper club, with good rooms, amazing gear, friendly and very professional staff, and a great collection of really well-curated bands. So many bands that I wanted to see were also playing, and I think every other band felt the same. As a musician, you would be watching a band you like, standing next to someone from a band you like. Any lines between band and audience – and staff – become quite blurry at Roadburn."
It was clearly a match made in heaven, so as the relationship progressed, it quickly went from friendship to deep love. "They were happy with how things went, so we kept in touch," Walter says. "When we started to work with curators in 2008, with David Tibet our first, it was clear to us that Neurosis would be one of our first choices to curate, so we decided to do just that for 2009. I was given the opportunity to go to San Francisco, and fly to Northern Idaho to Steve's place. I spent a couple of days there with him, and we talked a lot about all their plans and ideas. Beyond The Pale took place at Roadburn 2009 with a lot of Neurosis-related projects, and it was a very special year."
Steve also recalls that meeting fondly. "It was a great honour to be asked to curate," he says. "We had toyed with the idea of putting out our own music series in the early 2000s, with our Beyond The Pale festival in San Francisco. What we found was that we really loved the idea of choosing a wide variety of artists in different genres for the same reason that we found a home at Roadburn – different styles of music that share a kinship because of its outsider and truly original nature. Its emotional content. And to be invited to do that was great. When Walter stayed with us here to discuss the details, we drove around, showed him some mountain scenery, some lake scenery, we had some great hangout time, some great discussions. When we're given the opportunity to dream, we dream pretty big. And while we can never cater to our exact dreams and wishes, I think we got pretty close to it. We had a great, unique line-up that year."
Marriage duly consummated, it was just a question of fanning the flames of passion, and that much was done throughout the years, where barely a Roadburn went by without a Neurosis-related project on the bill. "We'd always invite Steve and Scott's projects whenever possible," Walter says, "and in 2015 I got the call from their booking agent and European tour manager Ansgar Glade, telling me they wanted to do the 30th Anniversary shows at Roadburn because of this bond that we developed over the years." Walter beams with pride at the memory. And we should all count ourselves lucky, because these shows might never have happened.
"We actually resisted the idea for quite a while," Steve quips. Really? "Yeah. We don't really enjoy looking backwards, and we don't necessarily feel inspired by what was inspiring us when we were 19 or 20 years old. Our real main celebration of our 30 years was the creation of Fires Within Fires. On our actual anniversary, which was December 2015, instead of worrying about a show, we spent it in the studio, recording and mixing that new record. But eventually we came to the conclusion that yeah, we should do at least just a few local shows. That of course blossomed out of control and turned into three nights in San Francisco. It was an incredible few days, and we hadn't thought about taking it anywhere else. But, once again, eventually we thought that, maybe, while we're doing this one time thing of looking backwards, maybe we should take it to Europe."
Neurosis did two nights in London, and then went to Tilburg for their 30th anniversary performances at Roadburn.
"It was the perfect vibe to conclude that whole celebratory time in our career," Steve says. "We might not do that again. It was very tough to go back and relearn stuff from so long ago. Artistically we didn't even know if those songs belonged in the same set together! But being at Roadburn felt like being among family, and we thought that if there was one place where we could pull that off, it would be there." As it turns out, playing songs from three decades ago isn't an easy feat.
"I try to not be in my mind when we're actually playing," Steve reasons. "But because we were playing things that were less rehearsed and that felt less natural – I mean, it doesn't feel natural to play those songs anymore, let's be honest. Every cell in your body regenerates every seven years or so, so we've regenerated several times as humans since we were able to play that fast. I'd say it's still uncomfortable, but we kind of embraced it for what it was. A rare celebration: out of character for us, yes, but a rare treat, so it still felt like a special time."
"Everything else around it too, not just the two sets," Steve adds, "being able to play a solo set in the Het Patronaat… Man, talk about being nervous, being there all by myself in that great room packed with people! It forced me to grow and perform well in front of so many folks. I remember singing with Converge too, the song we did together with Chelsea Wolfe, that was fantastic as well. That whole weekend was just day after day of excitement, nervousness and good feelings."
What better way to put an exclamation mark on Roadburn v2.0, right? "I do look at these shows as really the culmination of a decade of friendship and artistic kinship, of something that started back in 2006," Walter says. Steve confirms this with a wide smile: "It absolutely is a friendship," he offers. "Walter is the face of Roadburn, he is a dear friend, and a great, kind, creative and inspired human being. We love him, and we know how much of his heart and soul is in all of the festival. It all stems from him, but I also have to mention all the other people who make the festival: there's a whole, huge staff of folks at the 013, the people in town, everyone putting together the magazines, the websites, the promotion, the behind the scenes work. It's really impressive, and to know that's happening with good people and with good friends, is great.
"We still feel just like we felt on that first time we were there," Steve continues, "that finally there was an international festival that was like a home. It's grassroots, it reflects our DIY punk rock aesthetic, and our love for psychedelic, trippy, heavy music. It's where the good stuff always is."
For that to keep being true, its evolution has to continue. Which is why, as Walter insists, Neurosis' 2016 performances were "also a kind of closure: we knew that this was the epitome of everything that Roadburn was about from 1999 to 2016. Celebrating the 30 years of Neurosis at Roadburn encapsulated everything the festival had been about through those years. Everything came together at those shows – we were honouring Neurosis by giving them the platform and the best possible conditions to do them, but at the same time they were honouring us as well, acknowledging us as the festival where they had been allowed to grow over the years too. Their growth was the growth of the festival too. In a way, the new Roadburn that we are developing now really started after that pivotal point: in 2017, we started to do a few things differently."
All the while, never forgetting about the past either, and the good things that brought us all to where we are today. "Neurosis also paved the way for that format, that plan, of multiple shows – to give the headliners time and space to celebrate their careers," Walter says. "That was the case for Sleep and for Godspeed You! Black Emperor, too. When you have the opportunity to have a headliner that has been around for such a long time, and that has had an influence as deep as these bands, that helped shape the festival itself and all other bands playing there, why not do this? That was something we decided after the Neurosis shows in 2016: that's another way in which they were so influential."
More than any other, the relationship between Neurosis and Roadburn represented the way in which the festival became the gathering point for one great big community, made up of all the very different and very wonderful people who live their lives by the sway of heavy music. As wise Steve puts it, in a way that really sums it all up, "Roadburn gave us all a home."