"The presence of death metal at Roadburn raises another point: is the death metal scene changing, or are more people just aware of its existence?" - Tomas Lindberg.
Death metal is a relatively young genre, all things considered. When genre progenitors Death, led by the late Chuck Schuldiner, released their landmark debut Scream Bloody Gore in 1987, the genre was nascent and primitive. In just a few short years, these genre pioneers embraced melody and progressive elements alongside their blast beats and shock-value cover art.
Evolution and progression quickly became hallmarks of death metal. The spirit of change drives the genre as much as the musicians' love for knuckle-dragging riffs and camo shorts.
— Vince Bellino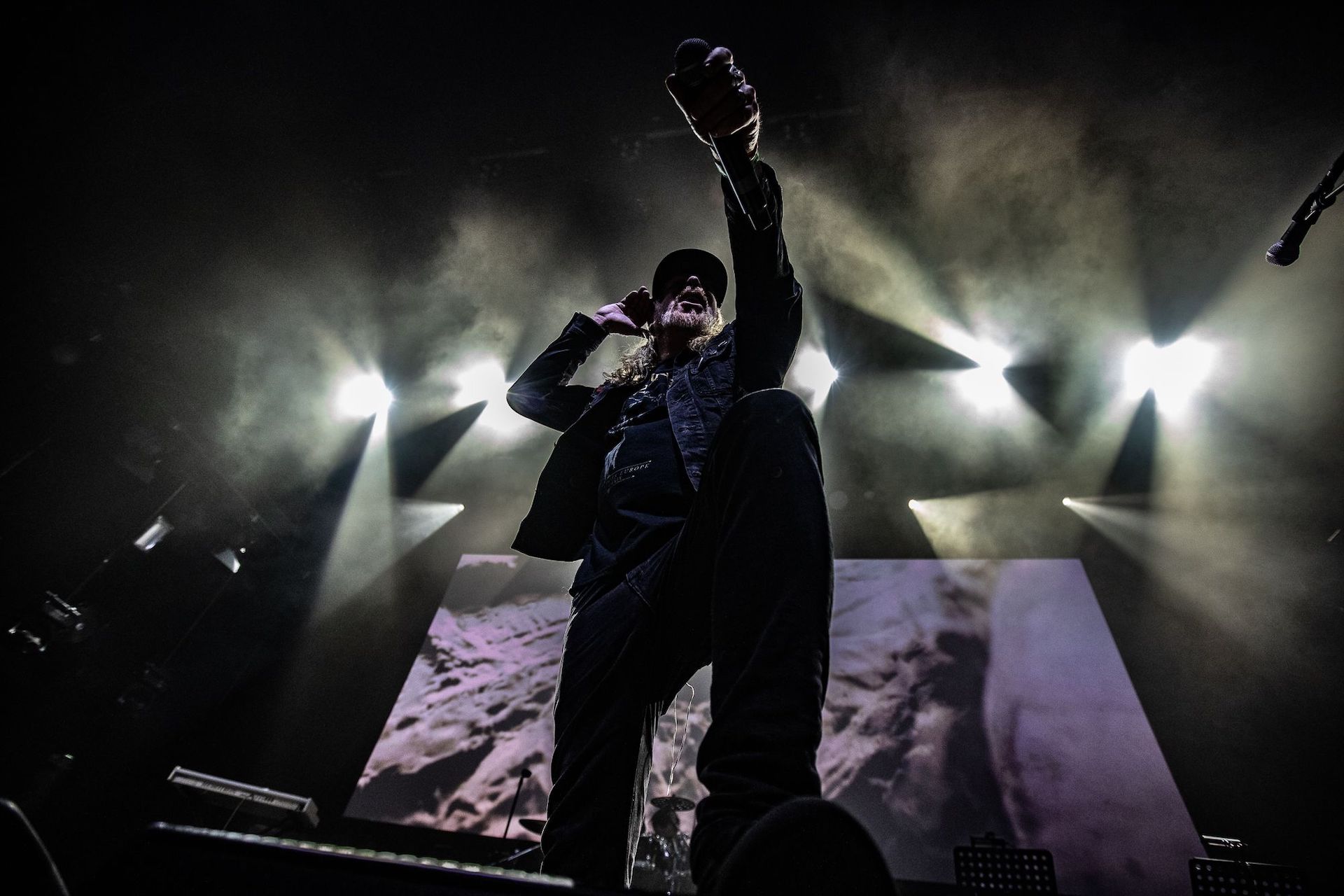 "Forming a new band, we were like 'Yeah, let's have no boundaries," recalls Tomas Lindberg. "We can include violin, we can listen to King Crimson and try to incorporate that. That was the main starting point of the whole band and that's still what we live by."
In the early 1990s, Tomas and his bandmates in At The Gates found themselves at the forefront of the burgeoning melodic death metal movement in Gothenburg, Sweden alongside peers like In Flames and Ceremonial Oath. Though At The Gates initially broke up in 1996 in the wake of their legacy-making and subgenre-defining fourth album, Slaughter of the Soul, their place in the Swedish death metal scene was undeniable. Tomas remembers that time fondly and sees it as a creative period, though he admits that he didn't foresee the legacy of the Gothenburg sound.
"When you're that young, you're very ambitious and almost pretentious," Tomas reflects. "You think you have all the answers, you think you know everything, so we thought what we were doing was exactly how we want our music to sound. Of course, it was inspiring after a few years. Other bands in the area, Dark Tranquility, In Flames, started to pop up and there was a healthy competition in a way."
Of course, the 1990s Gothenburg scene is but one of countless to emerge in death metal's 35-year existence. A quick scan through the archives of Terrorizer, Metal Maniacs or Decibel reveals scenes in regions around the world: New York and Florida in the United States; the Gothenburg sound as well as the "buzzsaw" Swedish variant; scenes in Finland, the United Kingdom, and many other corners of the globe.
Today, melodic death metal exists around the world and Slaughter of the Soul is widely accepted as a stone-cold classic. But while the echoes of Gothenburg can be heard everywhere, the death metal scene – and extreme metal at large – is changing. For artists, the advent of services like Bandcamp and the internet in general has changed everything. Coupled with recording costs that are lower than ever before and the existence of social media, the distribution and consumption of obscure and extreme music has never been easier.
Reflecting on the band's decade-and-change career thus far, Full Of Hell vocalist Dylan Walker attributes a portion of the band's success – and general existence – to the internet.
"All the tools are more laid out for anyone than ever before and I think that's important," Dylan muses. "It can't be a gated experience and it's not; I think the barriers are all falling down and yeah, you could say that's going to oversaturate things, but that's fine with me. It's like a rainforest – there will be a lot of dead plants on the bottom, but everybody deserves an equal opportunity to start a band."
Dylan explains that when Full Of Hell began some 12 years ago, the band had no recorded music, and didn't consider themselves to be very good. That didn't stop them, however: strictly utilising social media, the then-teenagers got in the van and began to play shows. Seven years, a couple LPs and a staggering number of EPs and splits later, Full Of Hell met their creative equal in long-running experimental duo The Body, with whom they released the collaborative album One Day You Will Ache Like I Ache.
The two groups toured the album, which was an unorthodox and unsettling amalgam of noise, sludge, industrial, grindcore and death metal. As Dylan explains, The Body were invited to perform at Roadburn in 2016, and Full Of Hell "snuck on" the festival as their tourmates.
"It went really well," Dylan says. "I definitely feel like we stood out but that was the year Converge did Jane Doe and G.I.S.M. played, and to me you could feel a different vibe just based on how it was curated."
Full Of Hell's inclusion at Roadburn in 2016, in addition to their planned residency at Roadburn 2020, is one of many indicators that the winds of change are blowing. The grinding death metal quartet, with their noisy trappings and shrieking, animalistic vocals, are not a "typical" Roadburn band. Traditionally, very few death metal or grindcore bands have played Roadburn, and the limited performances have generally been special sets.
With Roadburn's roots as a stoner/doom and heavy psych festival, 2016 was a pivotal year for the festival, introducing Full of Hell and Repulsion to the mix. The inclusion stuck – in just four years, Full Of Hell went from outsider extremists to would-be artists in residence at Roadburn. Dylan doesn't find it that strange, noting that he thought Japanese metal-punk weirdos G.I.S.M. were a far weirder act.
When considering At The Gates' 2019 performance at Roadburn, the same year he was a featured curator, Tomas says that the band paid special attention to crafting a set that would appeal to a crowd unfamiliar with their music. In addition to classic material, At The Gates performed songs with cellist Jo Quail, and also performed covers with Swedish songwriter Anna von Hausswolff and Sleep guitarist Matt Pike.
"We did pre-productions, recordings, rehearsing in different places with different guest musicians and everything, writing scores for the strings," Tomas recalls of At The Gates' performance at the festival. "It was huge. When we stepped off that stage afterwards, we were happy and thrilled, but we were also very relieved because it was a huge undertaking."
Still, it raises the question: does death metal belong at Roadburn, and if so, in what form?
"Anything could happen, but with At the Gates, we are aware of what a Roadburn band is, and we also know that we are not a 100% Roadburn band, but our music is 200% Roadburn," Tomas says, perpetuating the idea that a "Roadburn band" is not about genre. The presence of death metal at Roadburn raises another point: is the death metal scene changing, or are more people just aware of its existence? The consensus seems to fall toward the latter: regardless of generation and role in the scene, every individual interviewed for this piece agreed that, while the scene is growing because of new technology and less-centralised scenes, forward-thinking and unorthodox artists have always been a part of death metal. It's just more visible now.
Dark Descent Records has been crucial in death metal's surging popularity over the last decade and change. Now approaching its twelfth anniversary, Dark Descent is responsible for introducing bands like Horrendous, Blood Incantation and Spectral Voice to the scene at large. Though he's signed some of the most popular bands in the scene today, owner Matt Calvert explains that he chooses bands because he enjoys them and they fit on the label. Because Dark Descent has a rapport with its customers, fans are then willing to give new bands a try after seeing the label's stamp of approval, harkening back to the days of old when longhairs put their blind faith in Earache Records (until the label "betrayed" them by releasing Heartwork).
"12 years to me is a long time for sure, but in the grand scheme of things, it's a very large timeframe for others," Matt says. "We've had customers say "Hey, I've been listening to your releases since I was 15, I'm in my mid-20s now."
Matt also points out that death metal has always been able to endure surges and ebbs in popularity, noting that the underground genre has been around long enough to have developed a fanbase that ignores the larger trends. "You love this music or you don't," he asserts. "I'm 50 this year, and I still listen to it because I love it. All I'm going to do is keep putting out quality releases and if some people leave us, they leave us.
"I don't know if we'd call it a fad," he continues, thinking about the enduring appeal of death metal, and the waxing and waning of its popularity. "We might call it a lessening of the audience, and that's probably different. At this point, death metal's been established for quite a while."
This endurance is what allows new strains to grow within death metal; Matt says that three decades is long enough for bands to develop diverse influences. In decades prior, the pool to draw inspiration from was much smaller. The access to those varying influences also allows for a much more dialed-in sound, in whatever direction that artist wants to go.
"I think it'll get more intelligent, it'll get dumber, I think every good little aspect of metal and punk and extreme music like that, everybody is gonna be able to pick exactly what sliver of the sound they really like, and bore into it," Dylan says. In many ways, the desire to burrow into more and more specific and dialed-in sounds is the same desire that drives Roadburn curators, individuals who are crucial to the festival's presentation every year.
"Every Roadburn is different depending on who is curating it a little bit," Tomas says. "I was very meticulous about it. Every band that I chose for the curation would fit into the Roadburn audience's frame of mind a little bit, but still challenge them."
For At The Gates, it's their influence from bands like King Crimson and orchestral instruments and grand instrumentation that drives the sound in a different direction. For Full Of Hell, it's the way the noisemongers borrow just the pieces they want from other genres. "I felt like it was a badge of honor to just participate, because to me it was so carefully curated," Dylan says. "I think that's a really smart festival and we always wanted Full of Hell to sort of fit into that."
Lindberg and Walker both express their belief that most death metal bands could play Roadburn under some circumstance. Prior to Full of Hell's inclusion, Napalm Death performed a special set of slower material in 2014, Repulsion played in 2016 and in 2019, Ulcerate made their debut at the festival.
The At The Gates vocalist stresses the cross-pollination that already exists between scenes, pointing out the fact that Mono played the same year as the Gothenburg legends. According to Tomas, the two bands make an effort to catch each other when they perform in the other's home country. He adds that he has also performed at Roadburn with crust stalwarts Disfear, whose sound is more traditional.
In the same way that Tomas believes that Disfear fit as a release from the eclecticism that bands like At The Gates and Mono provide, he suggests that both more progressive and more primitive variants of death metal can find a home at the festival. Dylan agrees: while his immediate response is to suggest that bands like Gorguts, Artificial Brain and Tomb Mold would be the best fit for Roadburn, he quickly adds that "ultra-brutal dumb stuff" fits in the outside-the-box expectations that he has for Roadburn's yearly lineup.
"It'd be pretty out of the box to see Sanguisugabogg on there, but I think if Walter likes it, it makes sense" he says, referring to festival mastermind and artistic director Walter / Roadburn. "I think people would be into it. Who's to say where the line is?"
Death metal has come a long way since the 1990s, and has continued to evolve since the genre's popularity blossomed again in the mid-2010s. As the genre continues to grow, it makes room for bands both progressive and traditional; just as the old-school death metal revival rages on into the 2020s, bands are also releasing albums that couldn't have been imagined when Cynic wrote Focus or when Roadburn opened its gates for the first time in April 1999.
Despite its reputation as a metal festival – generally one that serves a doom-oriented crowd – Roadburn has also spent over 20 years evolving into a multi-faceted festival. No longer is the festival a three-band, one-day event. In 2022, attendees will have dozens of bands to choose from over three days. No two Roadburners will have quite the same experience, much like no two bands on the festival sound quite the same.
The future of Roadburn and the future of death metal are yet to be written, but for now, the genre is growing and has found a home at the festival, with Full Of Hell planning to return in 2022. Whether attributed to progressive elements or a fortuitous choice in collaborators, the spirit of innovation and a love for heavy, alternative music have brought the two together.
"I think it still holds the same banner," Dylan concludes. "It's about progressive music and inclusivity and that's about it. I don't think it's limited any longer. It definitely seems like there's more of a variety. Who knows what to expect nowadays?"
ONES TO WATCH:
Necrot
For all this talk of string instruments in death metal, the old-school practitioners are showing that you can teach an old dog new tricks. San Francisco outfit Necrot earned their stripes through heavy touring and constant focus. Tours with Cannibal Corpse, Morbid Angel, Suffocation and the Black Dahlia Murder have confirmed that Necrot can stand with the greats. Their second and latest album, Mortal, charted on Billboard's Hard Rock and New Artist charts, proving the genre still has plenty of life left in it.
Blood Incantation
Pink Floyd never imagined a trip like this. Cosmic raging death dealers Blood Incantation have always marched to the beat of their own drum—recording with analogue technology, resisting a presence on social media until absolutely necessary and writing 18-minute songs with 17-word titles. The final product is unlike any other: atmospheric, psychedelic, intensely technical and played with frightening precision, the death metal equivalent to a breakthrough mushrooms trip.
Outer Heaven
Morbid Angel knew Where the Slime Live, and it seems like Philadelphia's Outer Heaven do too. On their full-length debut, Realms of Eternal Decay, Outer Heaven took the best parts of death metal's classics and synthesised a slab of progressive, swampy death metal that tells the story of a primordial slime's conquest of Earth.
Undeath
New York state has historically been home to some of death metal's filthiest, heaviest bands and Undeath do those forefathers proud. Their debut full-length, Lesions Of A Different Kind, is a pure celebration of death, in both a sonic and conceptual sense. Lesions sounds like a remastered lost classic, with its boneheaded riffing, cavernous vocals and song titles like Phantasmal Festering and Chained To A Reeking Rotting Body.
Venom Prison
Venom Prison were formed in opposition to death metal's most-misogynistic tropes. Their first album, Animus, features an assailant being force fed his recently-removed genitals, a good indicator for the brutality within. Their second album, Samsara, hits just as hard because it's often rooted in reality. Vocalist Larissa Stupar takes aim at politics, sexual assault, hate crimes and mental illness against chugging, biting guitars and pounding drums with a touch of hardcore influence. The UK quintet call for change—both in the world at large and in the death metal scene—and battle tropes with no gimmick.
Sanguisasugabogg
For every Venom Prison, there is a Sanguisugabogg. The Columbus quartet appeal to the genre's deranged, perverse side, writing songs about pornography, sex and excessive gore with all the finesse of a neanderthal and his club. Songs like Dead as Shit and Dick Filet betray a sense of humor that isn't present in the horror movie lyrics of Gored in the Chest or Dragged by a Truck.